The Project hosted the following events:
---
2023
Multiplier Event (10-12 July 2023, University of Angers)
The concluding multiplier event of the SFBB Project will take place in Angers with an international symposium on Short Forms in Classroom: Breaking Down Boundaries from July 10 to 12, 2023 and hosted by the University of Angers. The Project's theoretical reflection on the concept of short forms and their uses with students and school groups is underpinned by a commitment to the wider community (working with young migrants, creating tourist and cultural itineraries, etc.) The concluding symposium has a threefold objective: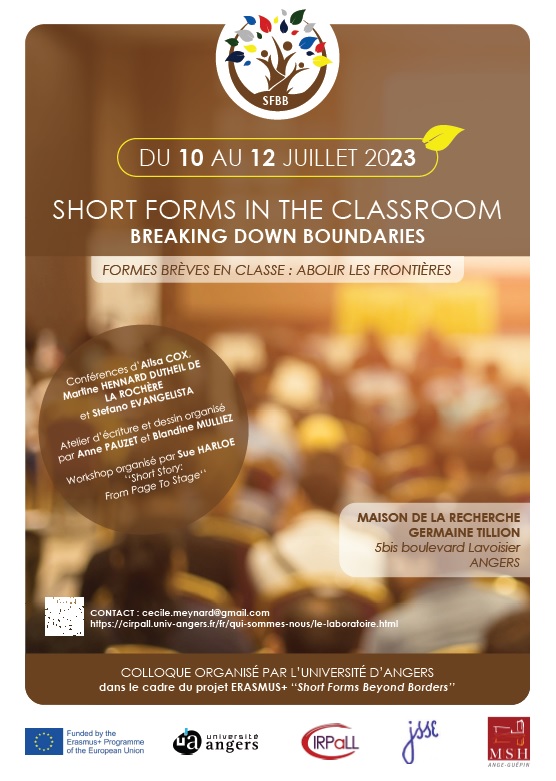 presenting the results of innovative teaching practices using short forms
gathering of contributions by international academics on short forms in various fields
opening a window onto other approaches to short forms: writing and drawing workshops, theatrical productions of short fiction, exhibitions of short works, readings of short stories and talks…
For the detailed programme click HERE.
TLT activity in Athens (15-19 May 2023, National and Kapodistrian University of Athens)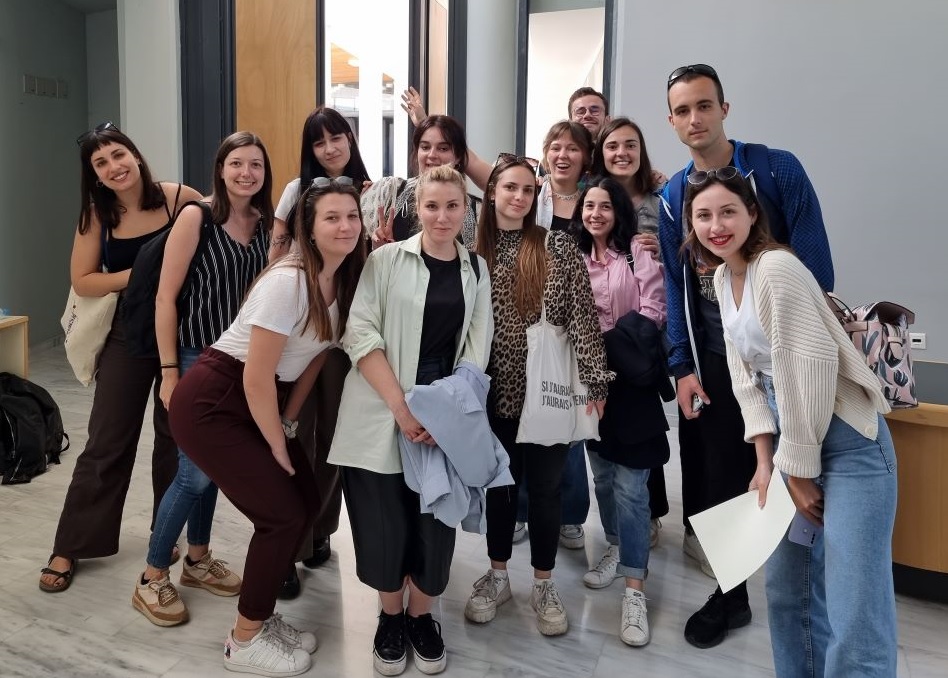 The meeting took place from May 15th to May 19th, 2023, under the responsibility of the National and Kapodistrian University of Athens. Five workshops were conducted, in a total of 31 hours of intensive focus. The training involved workshops such as a "Short training for refugee education"; A cross-curricular approach to teaching history and EFL through (Irish) short stories"; "Mixed arts around short forms – Poetic + storyboard writing for songs – Workshop"; "Mobilising Short Forms to Teach Iconic Literature".
---
2022
Joint Staff Training (24-26 November 2022, Faculty of Humanities and Social Sciences, University of Szeged)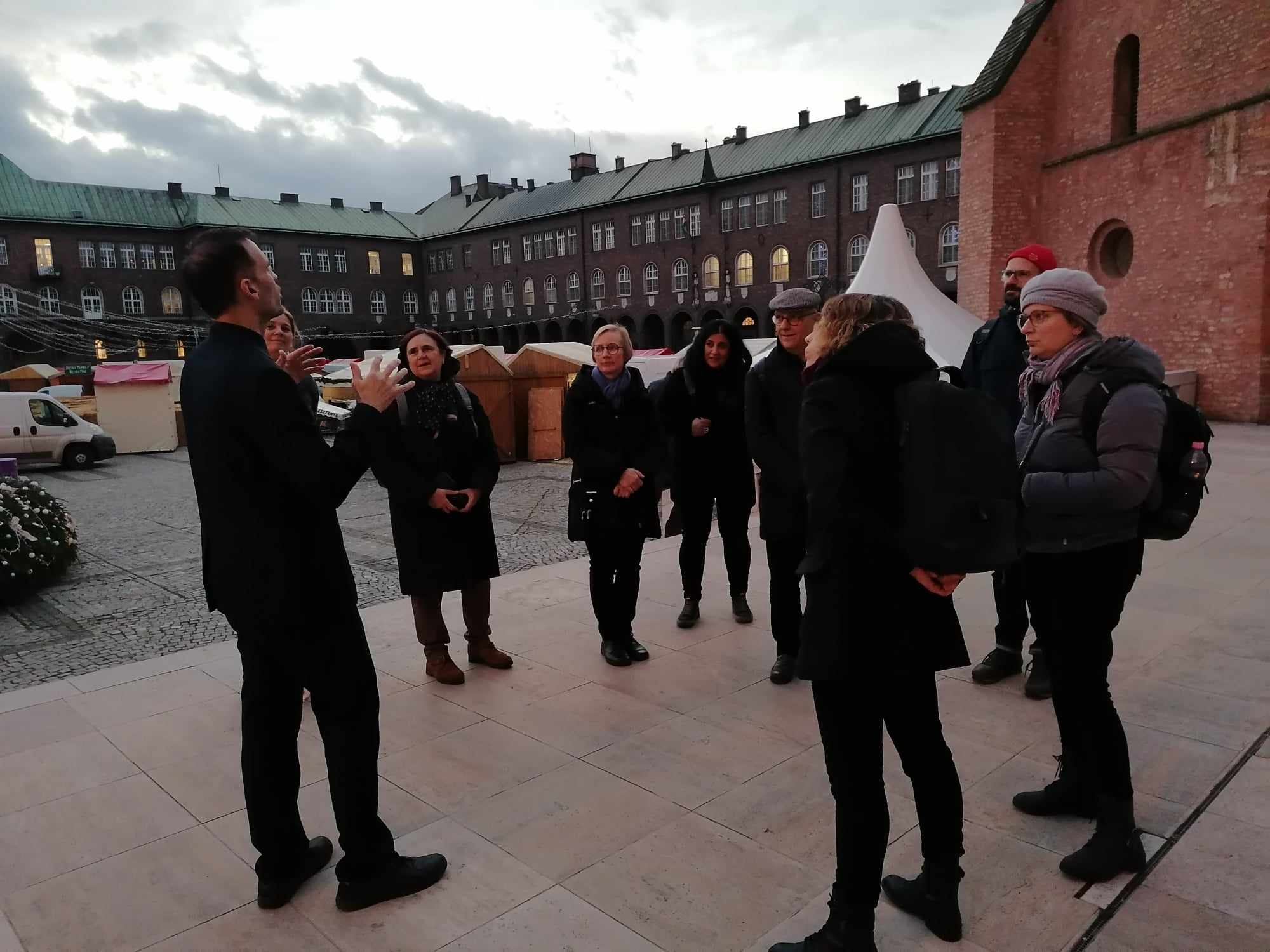 The transnational meeting and joint staff training took place in the University Szeged form the 24th to the 26th of November. The event focused on the topic of "Short Forms Beyond Medial Borders" with the aim to explore the pedagogical, literary theoretical, cultural critical, touristic, and linguistic uses of short forms across a variety of different medial forms. Only teachers and trainers took part in this event. During those three days, the members discussed pedagogical approaches and cultural use of the short form. They were also able to bond through different visits and activities organised throughout the city of Szeged. Click HERE for the event's programme.
Multiplier Event (4-5 July 2022, Faculty of Philology of Santiago de Compostela)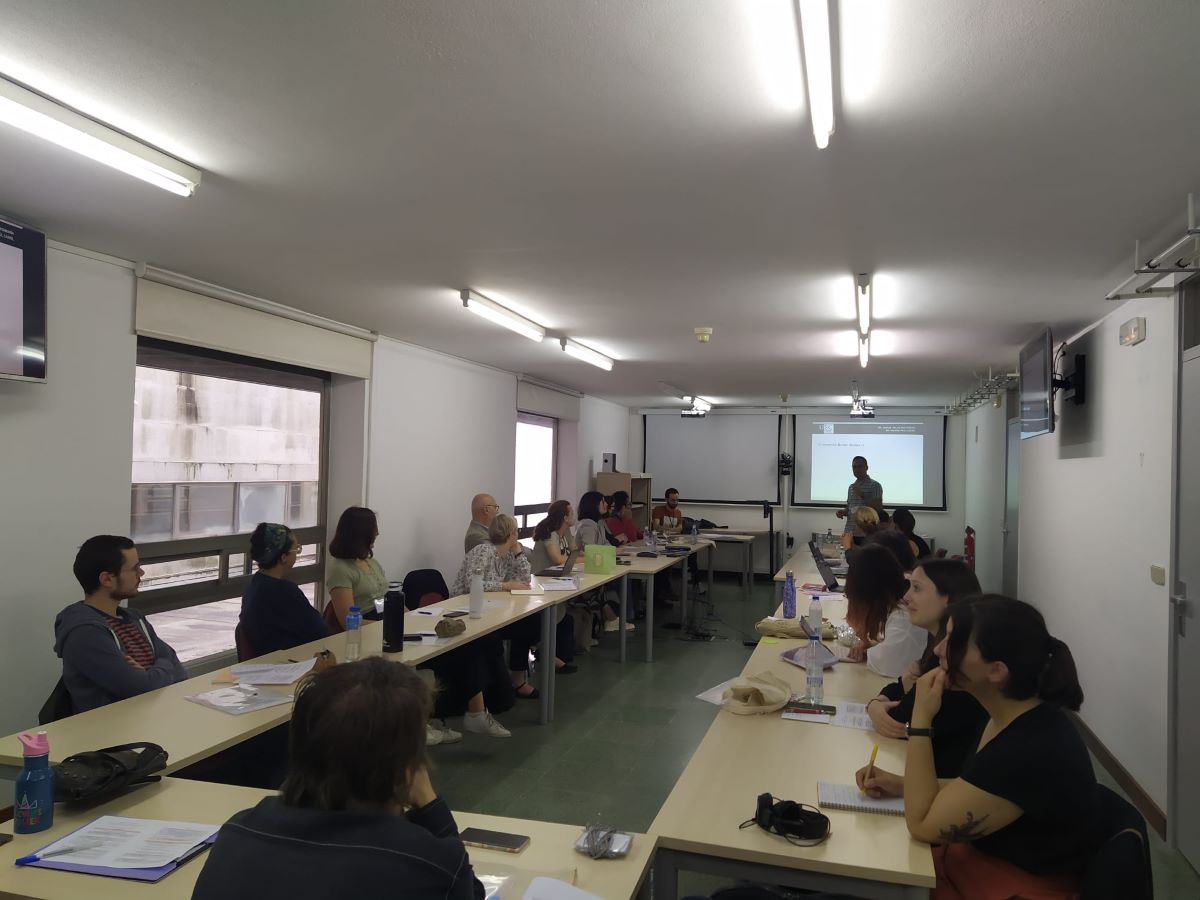 The Multiplier Event "Mapping Brevity across Borders: Short Forms as Tools for Educational, Social and Cultural Mediation" took place in the Faculty of Philology of Santiago de Compostela on the 4th and 5th of July 2022. The aim of the conference was to reflect and discuss the relevance of short forms and their potential to encapsulate contemporary experience and to function as tools of cultural mediation in both social and pedagogical contexts. The event revolved around three workshops, three panels, a round table and the presentation and discussion of the Intellectual Outputs results by SFBB teams involved, as well as convivial times.
TLT activity in Giessen (28 March-1 April 2022, Justus-Liebig-Universität Giessen – International Graduate Centre for the Study of Culture)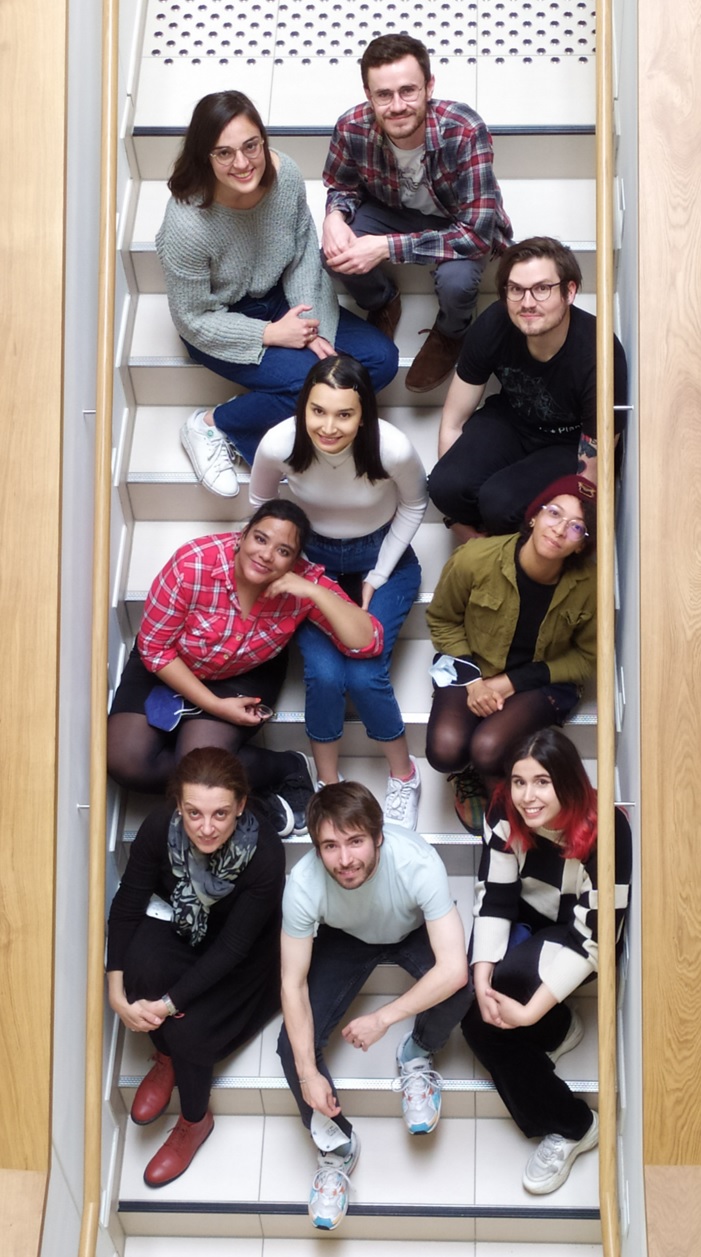 The Teaching-Learning-Training Activity (TLT) and Transnational Project Meeting (TN) event took place in Giessen, from March 28 to April 1, 2022. The objective of the meeting was to update teams of progress made, present and discuss intermediate results and discuss future steps to take. Six workshops were conducted, such as presentations on "Projects on Youtube" or on "Using Baludik," as well as communications on educational approaches, such as "Pedagogical training for teachers working with young migrants". The fourth day took place work sessions on individual projects, kicked-off the previous afternoon. During these few days, joint products were created, thus improving the team building and networking in the group. The student participants met face to face for the first time at this event.
---
2021
TLT activity in Leuven: Workshop on "New Perspectives on Genres" (10 November 2021, KU Leuven – Faculty of Arts)
The "Short term joint staff training event" took place in Leuven from the 8th to the 10th of November in 2021. Only teachers and trainers took part in this face-to-face kickoff event. This meeting enabled the partners to consolidate the foundations of the projects started online and to determine their subsequent development and completion. New projects were initiated during the three days of shared training. During the event: progress has been made on the collection of data on the use of short forms for cultural and educational mediation. The Leuven team presented specific information on microfiction as a tool for teaching short forms.
Presentations in Dutch, French and German. For the programme (in Dutch), see: https://www.arts.kuleuven.be/outreach/tenl/dag-van-het-literatuuronderwijs
Virtual Workshop 2: (In-)visibility and/or the affordance of short forms (10 June 2021, Justus-Liebig-Universität Giessen – International Graduate Centre for the Study of Culture)
Where do short forms figure, e.g. in literature, popular culture, digital media etc., and what purpose and function do they serve to fulfil in their respective contexts? Short forms can either appear as more or less self-contained entities (e.g. short stories) or embedded in larger ensembles (e.g. emails or poems in novels); they can be fictional or non-fictional; literary or non-literary; verbal, visual or auditive (or a combination thereof), and so forth. The aim of this TLT activity is to foreground and thus visibilize a variety short forms in their respective instantiations, and reflect on their communicative affordances.
During the asynchronous part of the activity, students and colleagues created an entry on Padlet, presenting one example of (the usage of) a short form, with regard to the above questions. See the created Padlet HERE.
Virtual workshop 1 (21 April 2021, Justus-Liebig-Universität Giessen – International Graduate Centre for the Study of Culture)
Discussion of pre-circulated texts | Impulse by Wolfgang Hallet + discussion | Short pitches by participants | Closing discussion: Affordances of Short Form